Disclosure: This is a sponsored recipe for Wholly Guacamole through 15 Minute Suppers. This recipe & all opinions are my own.
Just get home from work and need a quick dinner idea so you can get the kids fed and into bed? When you're a mom on a mission to get dinner on the table, one of the easiest things to make is roll-ups. This quick, healthy and delicious take on the traditional sandwich can be used in an abundance of recipes, but my family and I really like to use turkey in our roll-ups. You'll find my recipe for Cajun Turkey-Guac Roll-Ups below.
Cajun Turkey-Guac Roll-Ups
In about 10 minutes, you can put a quick, easy and healthy dinner on the table for your family with this recipe for Cajun Turkey-Guac Roll-Ups. Just add a salad, baked potato, or fresh vegetables with dip for an easy side. If you have little ones at home that like to participate in food preparation, you can easily set up a little station by setting ingredients out on plates or in bowls and allowing your kids to assemble their own roll-ups. I know my kids tend to eat better when they feel like they made it themselves.
This roll-up can also be easily adapted for those that can't tolerate spicy foods. Simply use your favorite deli-style turkey and Wholly Guacamole Homestyle Guacamole instead. Of course, for those that like a little more of a spicy kick, try Pepper Jack cheese instead of Colby Jack and add a tablespoon of Wholly Guacamole's Spicy Salsa.
Ingredients:
Thinly sliced Jennie-O Cajun Turkey – 2 slices per roll-up 1 container Wholly Guacamole Spicy Guacamole Verde – 1 Tbs per roll-up Sliced Colby Jack Cheese – 1 slice per roll-up Cream Cheese – 1/2 Tbs per roll-up Leafy lettuce of choice – 1 leaf per roll-up Tomatoes, sliced and cut into halves – 2 pieces per roll-up Flour tortillas Toothpicks or sandwich sticks Note: You can use hot or cold turkey.
Assembly:
1.) Take one flour tortilla and lay it upon a plate. 2.) Spread 1 Tbs of Spicy Wholly Guacamole in a thick line down the center. 3.) Lay one leaf of lettuce over the guacamole. 4.) Lay two slices of turkey over the lettuce as evenly as possible. 5.) Spread 1/2 Tbs of cream cheese over the turkey. 6.) Lay one slice of Colby Jack cheese in the center. 7.) Top with two pieces of tomato. 8.) Take one side of the tortilla and roll it over. Continue to roll until you have a nice rolled sandwich. 9.) Place a toothpick into the top of the roll to hold it together. 10.) Serve with chips, fresh vegetables and dip, a salad or baked potato.   Note: You can also pop these into the toaster oven or under the broiler for a few minutes for a warm roll-up with delicious, ooey-gooey cheese!
Enjoy!
Need more quick 15 minute recipe ideas? Check out these other great #15MinuteSuppers!
Follow 15 Minute Suppers on Facebook | Twitter | Instagram | Pinterest
and look for the #15MinuteSuppers hashtag too!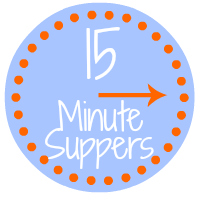 BLOGGERS: Would you like to join us at #15MinuteSuppers? We'd love to have you! Please check out the 15 Minute Suppers website or ask to join the Facebook group (for bloggers) to participate on Fridays…we'd love to have you join us.